Kelp & Moss: Snowshoeing, Mt. Washington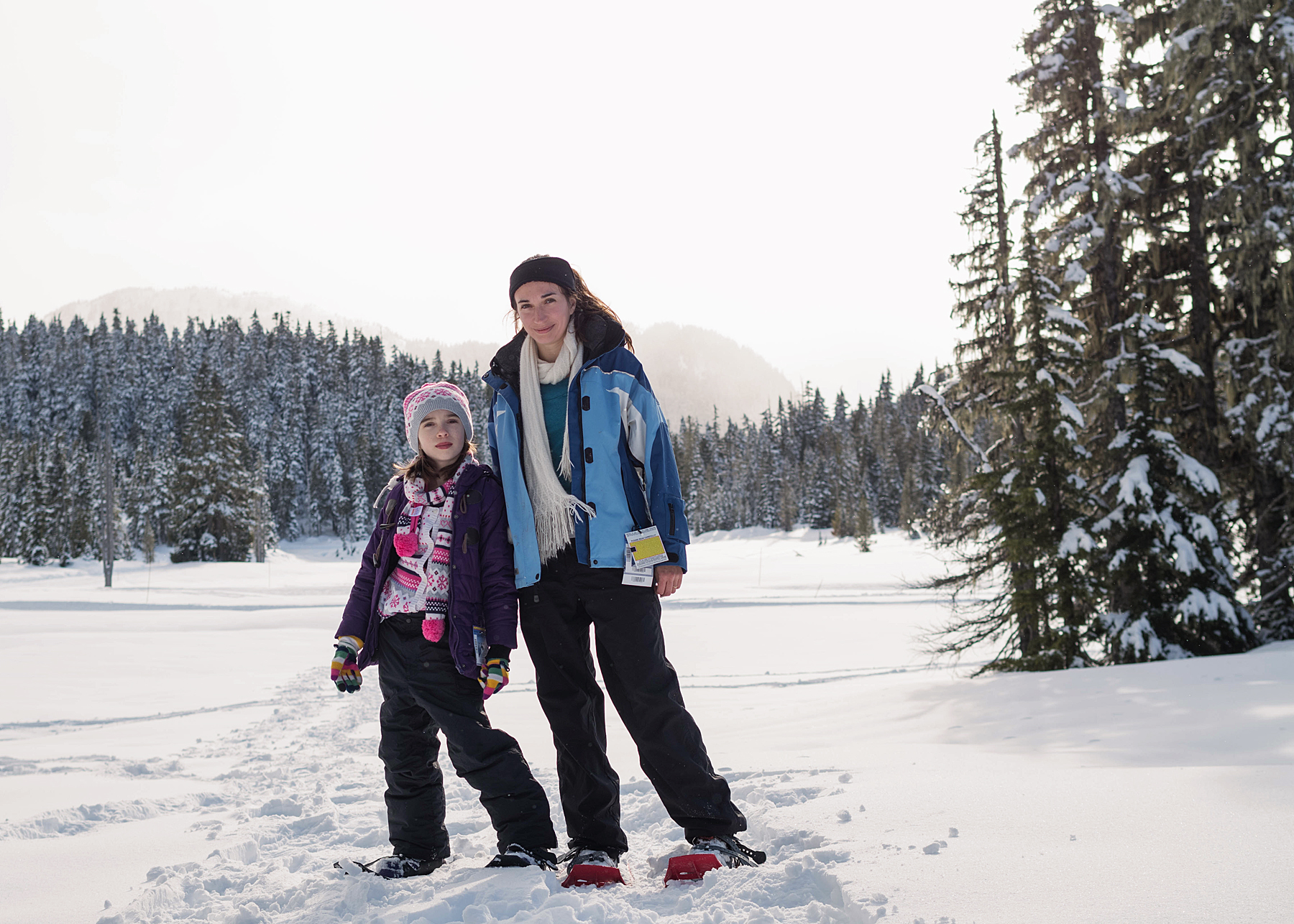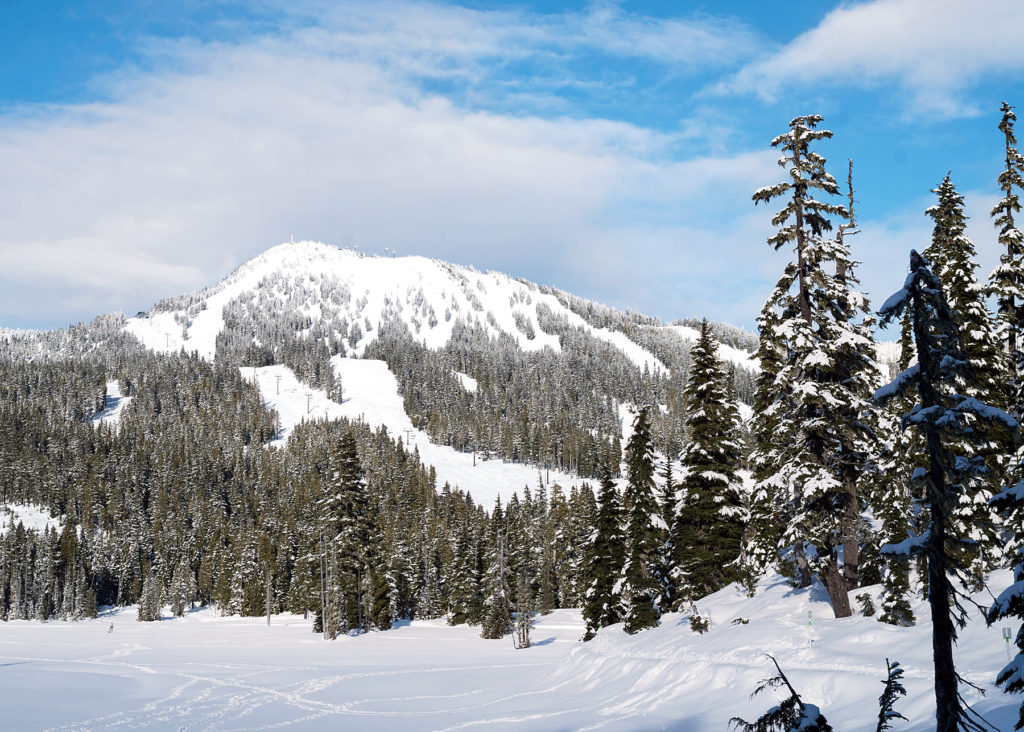 During spring break we spent a couple of days up at Mt. Washington. Sean and I used to go up with friends when we were in university, but we had never taken the kids. We're not especially experienced skiers or snowboarders, so anytime we head up to the mountains it's mostly just to play in the snow. Our goal for this trip was to spend time with friends and take the kids out snow tubing. The snow tubing set-up at Mt. Washington Alpine Resort is fantastic. Thomas was especially keen on this activity. After tubing and playing in the snow we headed back to the lodge for lunch and warming up and then Gracie and I headed over to the Nordic area for snowshoeing.
I'd only been snowshoeing once before, when I was in Girl Guides. All I remember from the experience was that it was exhausting. I wasn't sure if we'd enjoy snowshoeing, but I was drawn to the idea of wandering in a winter wonderland. Snowshoeing is inexpensive and doesn't require a lot of gear or lessons, unlike skiing or snowboarding. We chose to skip the guided tour and just rent some snowshoes and get a trail pass. After 3pm the cost was reduced and it only cost $14 for me and $6 for Gracie, rental and pass included. The staff at the Raven Lodge were helpful in giving us a quick rundown of how to put on our snowshoes and which trail to take. We were advised to take the easiest route, the Old Cabin Loop. It's only a 2.5km trail and we were told it would take about an hour to complete. I wasn't sure how much stamina Gracie would have, but figured an hour would be about right for a first time out.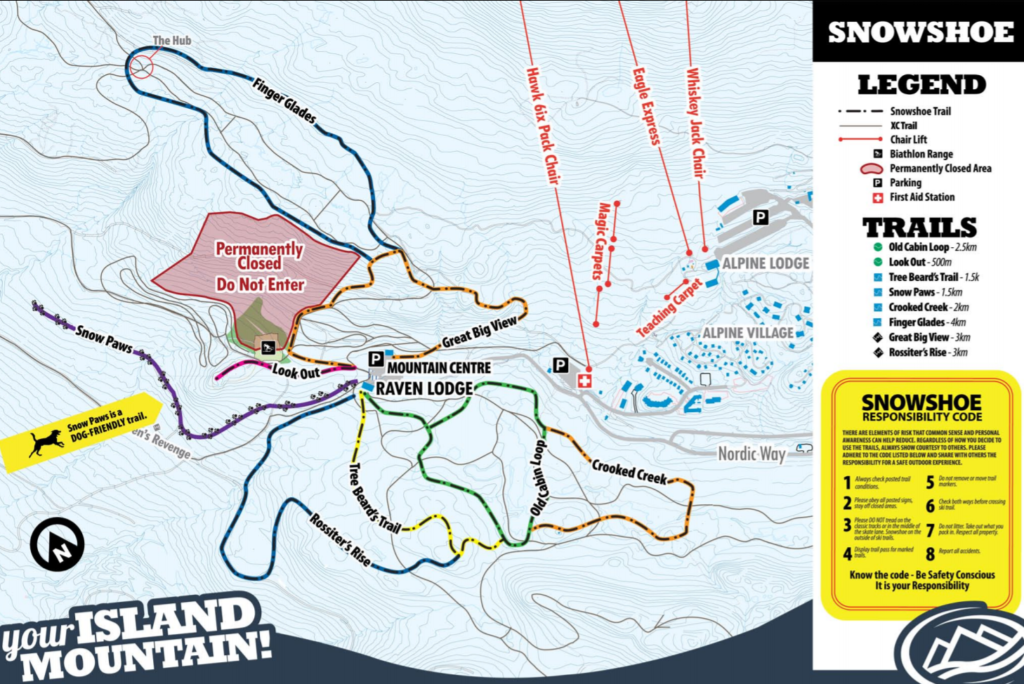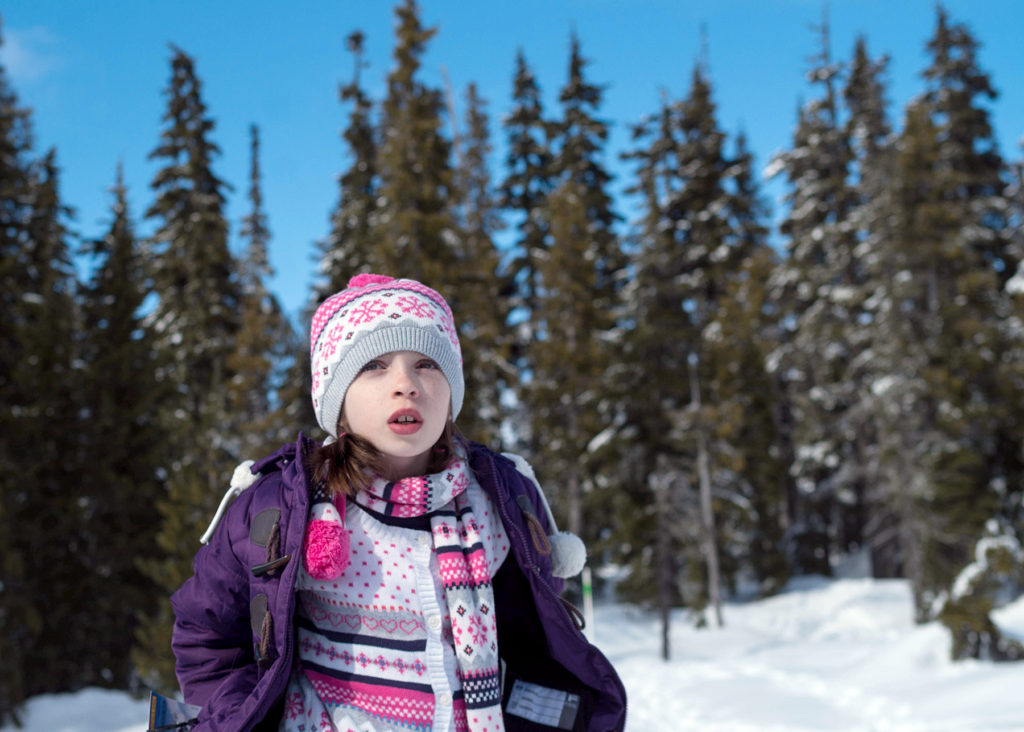 The Raven Lodge in the Nordic area of Mt. Washington backs onto Strathcona Provincial Park. Strathcona is a massive park and BC's oldest. It's a 2,458 km² wilderness wonderland for adventurers of all kinds, in all seasons. While we planned to stay within 2km of the resort, I reveled in the idea of being on the edge of the backcountry. We're starting out with baby steps, but one day I look forward to trekking into the wild for bigger and bolder adventures.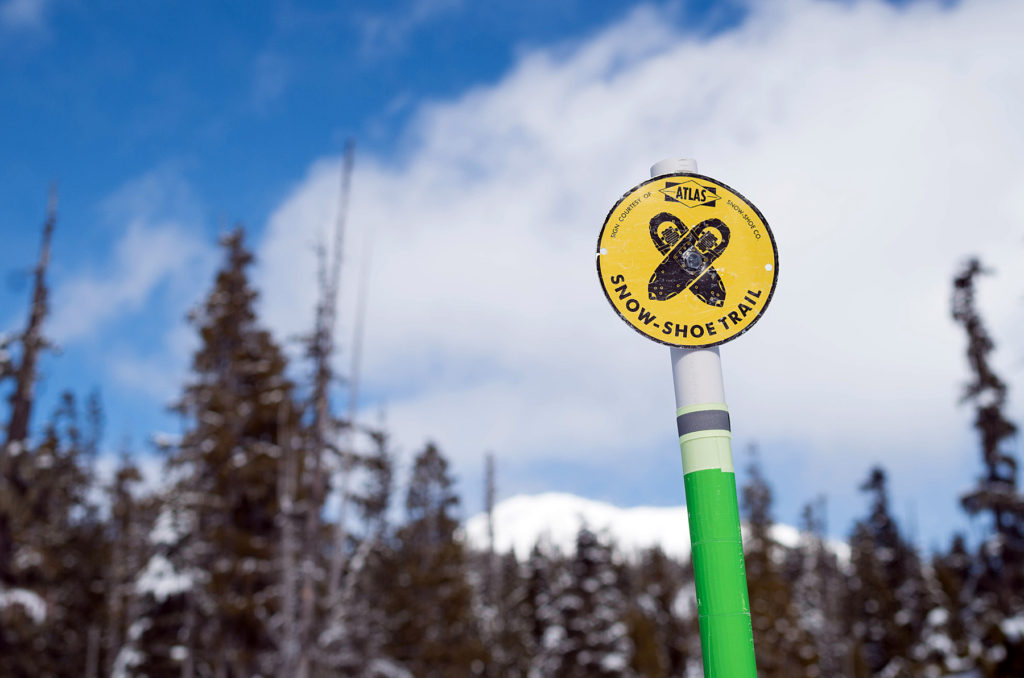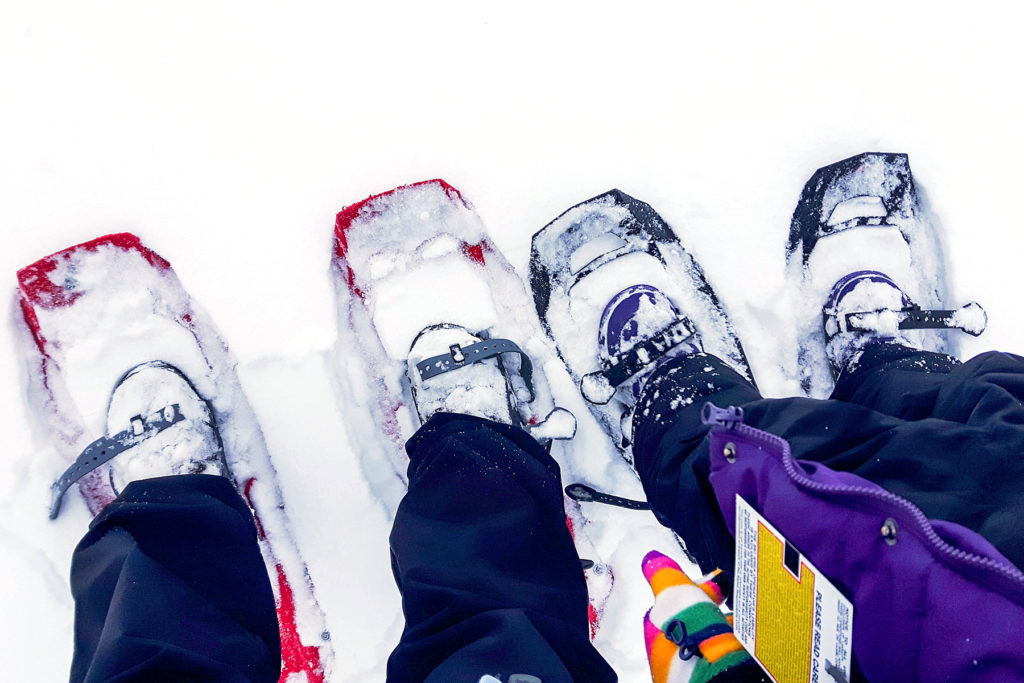 We headed out in the late afternoon with bright sun and a little wind. As soon as we headed out on the trail, Gracie and I were in awe of the beautiful alpine landscape. The Nordic area is a mix of alpine meadows and old growth forest. Once we got past the small trees surrounding the lodge we wound our way through tall trees and into wide open spaces.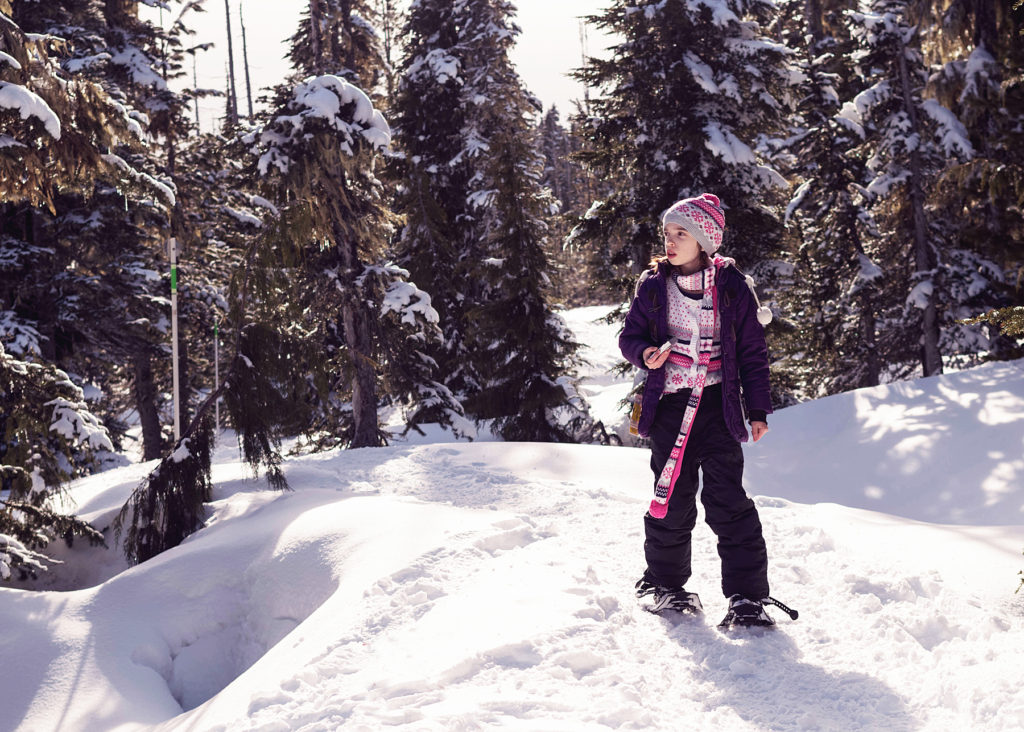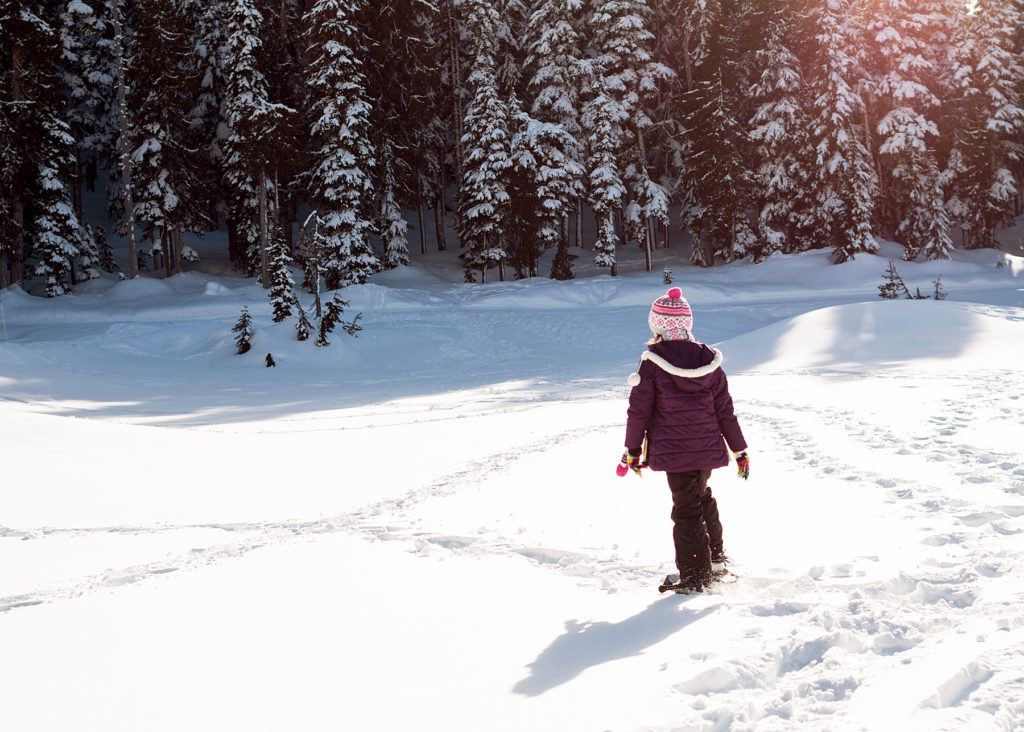 It was apparent why it's important to stay on the marked trails. There are many barely visible ditches and deep holes in the snow down into thawing creeks or ponds, as well as deep tree-wells in some places. It was difficult to discern whether the tempting untouched snow in the meadow was covering solid ground or thin ice. Gracie is especially cautious and didn't want to leave the trail at all, but I was able to convince her to follow rogue snowshoe tracks across a few "shortcuts" here and there. It was a lot more fun stomping through fresh powder.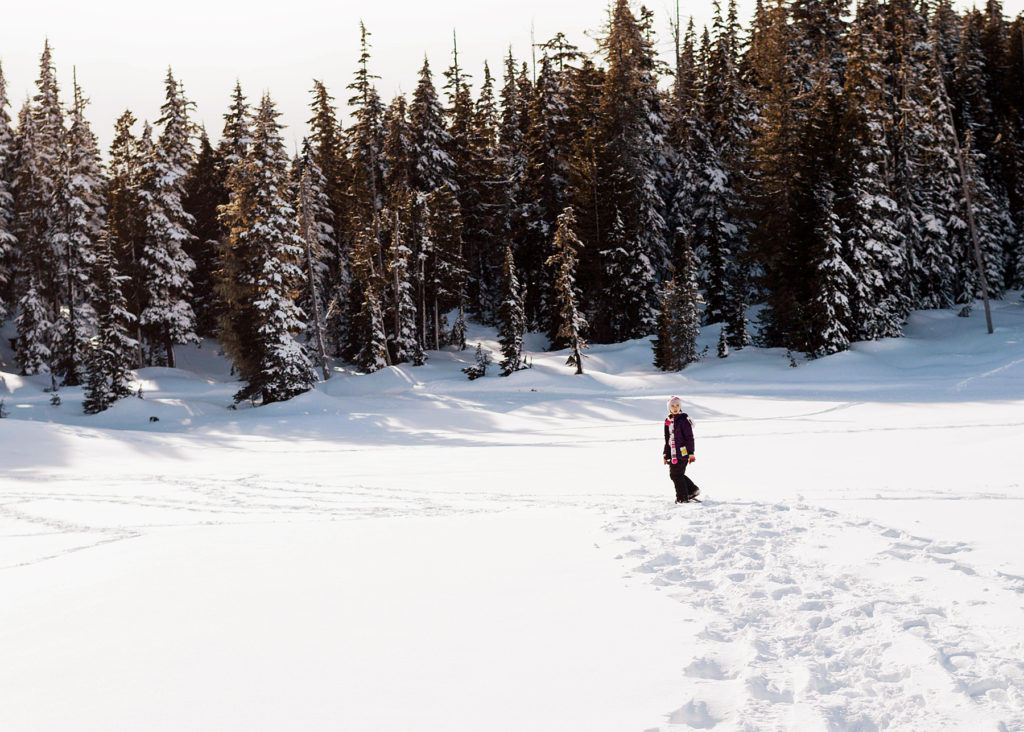 Gracie's chief motivation for this expedition was finding wild animals. We looked for animal tracks in the snow but were unsuccessful. At first the woods were strangely silent. About half an hour into our trek we heard birds twittering in the trees. The Grey Jays (or Whiskey Jacks) are known for their bold willingness to take food from people's hands. While ideally we wouldn't feed wild animals, the birds near the resort at Mt. Washington are hardly what I'd consider wild. I consulted with a bird expert before heading up to the mountain and packed some raw peanuts to feed any Whiskey Jacks we came across. As soon as we put the nuts in our hand the birds were eagerly circling us and landing on our hands unabashedly. Gracie was mesmerized! She stood perfectly still with her cold hand outstretched any time she saw a bird for the rest of the trip. It was truly enchanting.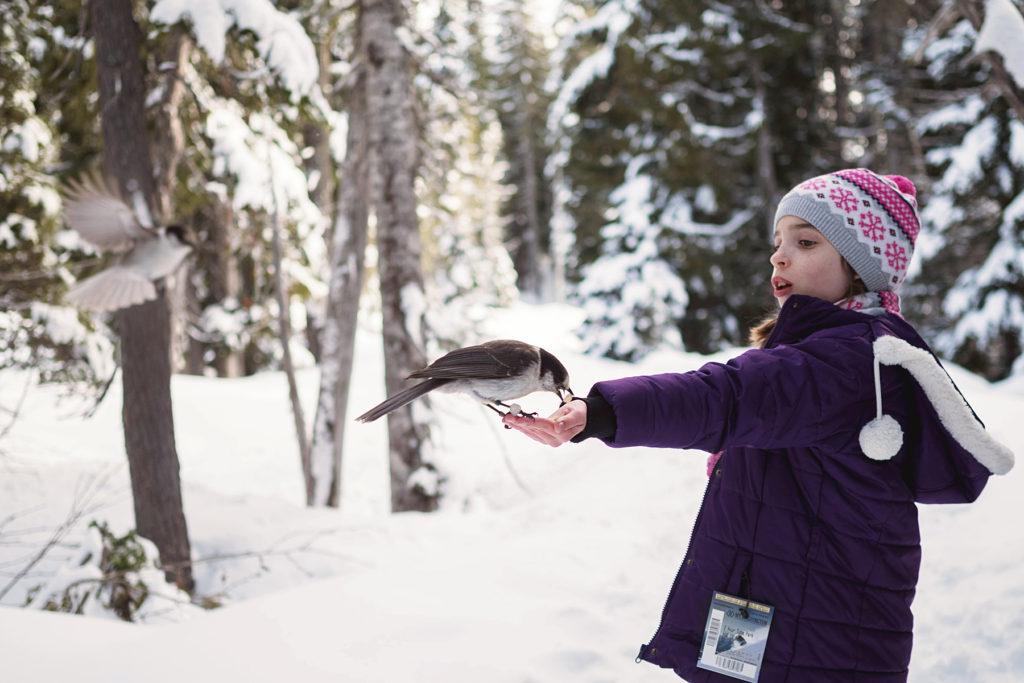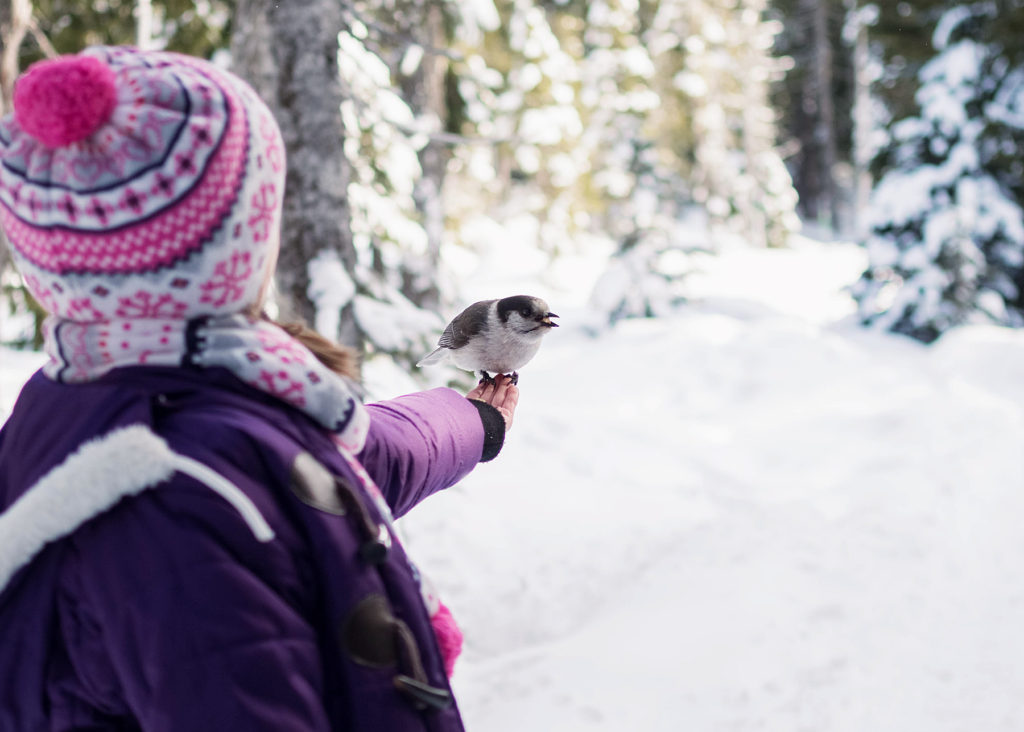 After an hour of feeding birds, taking pictures and doing very little snowshoeing, I pulled out my phone to check the map. We weren't even halfway along the trail. I considered going back the way we came instead of continuing along the loop, but the weather was nice, we were warm enough and having a great time, so we kept trekking.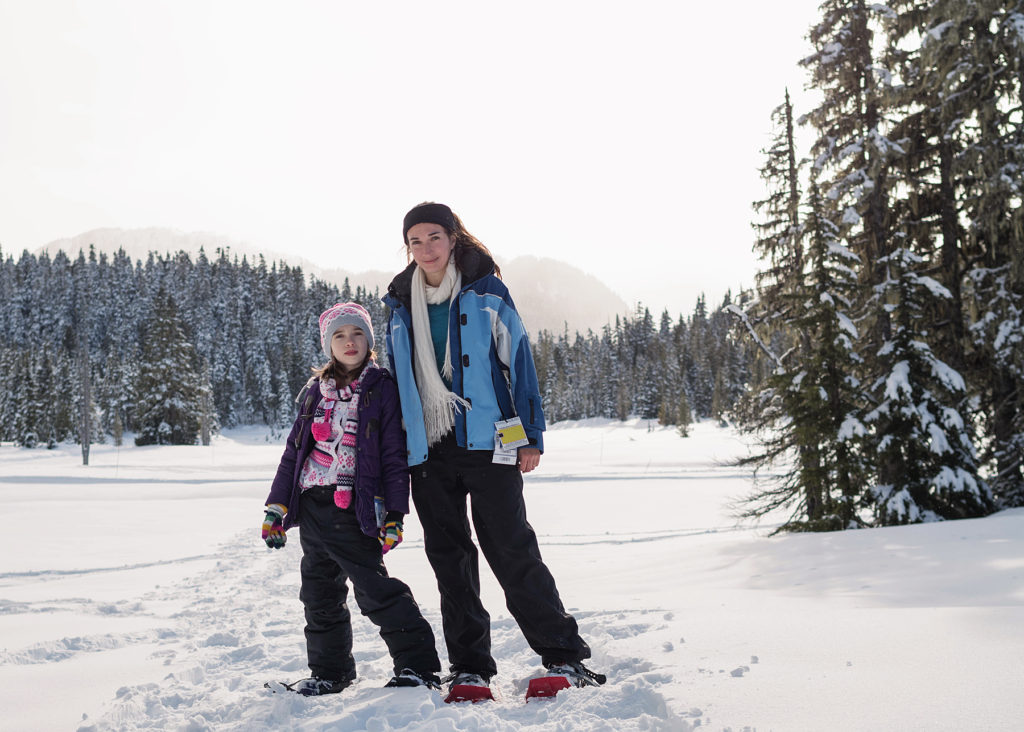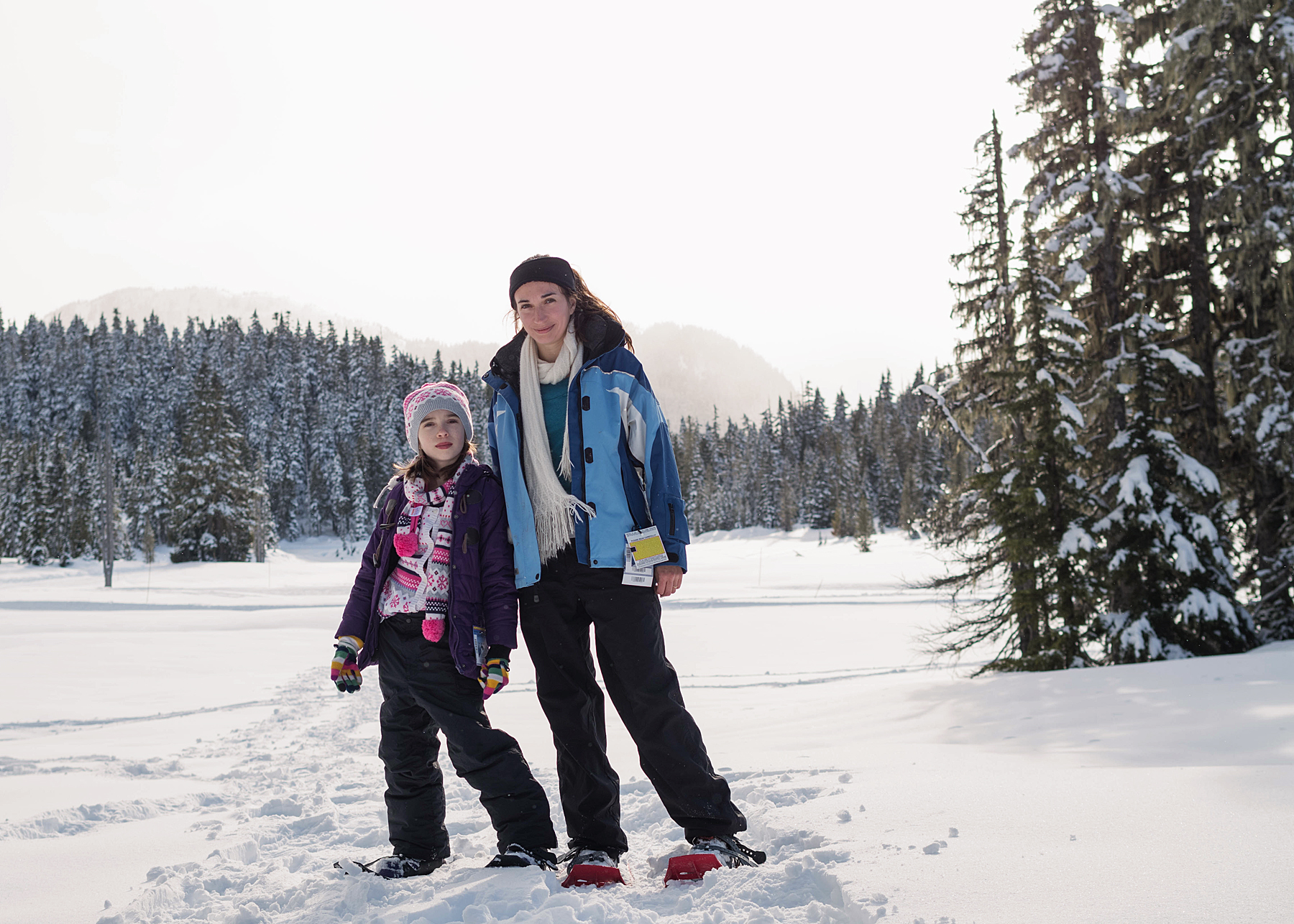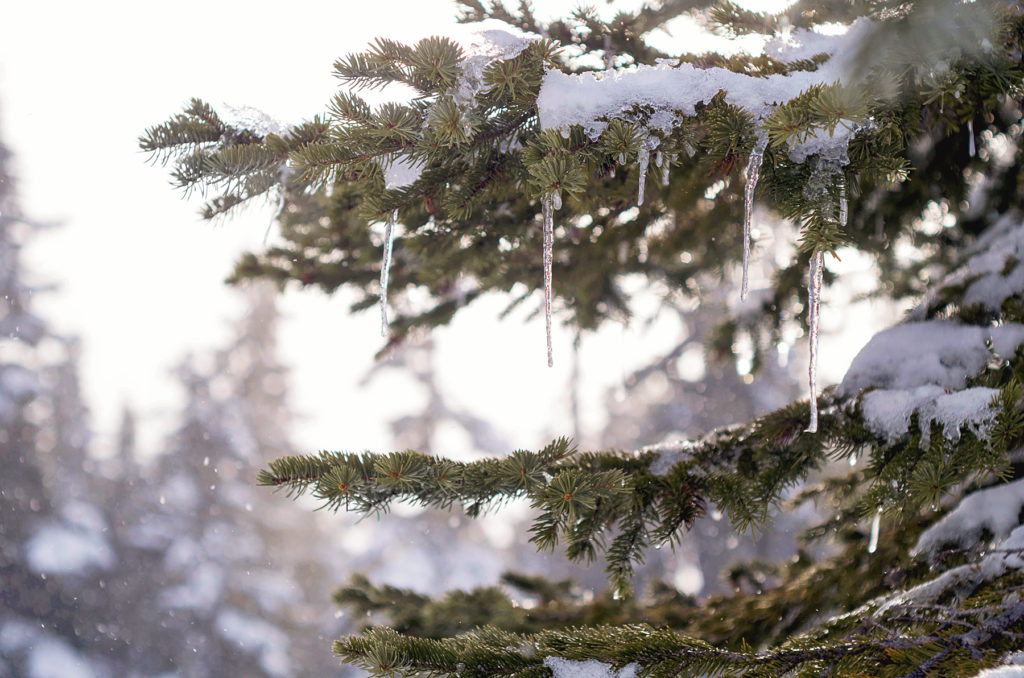 After two hours of snowshoeing the weather began to change. I checked my phone again (we were still in service range and able to use GPS which was fantastic for slightly anxious first-time snow-shoers) to find we still weren't very close to to the lodge and Sean had been trying to contact me. After assuring him that we weren't lost in the wilderness or trapped in a tree-well, we continued along the trail. Gracie was getting tired by this time, but she knew she had to keep going and was a fairly good sport about it. I realized afterwards that stopping for a snack and water break would have been wise but I was feeling anxious about how long we'd been out. Some thick clouds came in, it started snowing heavily and we thought we even saw some lighting.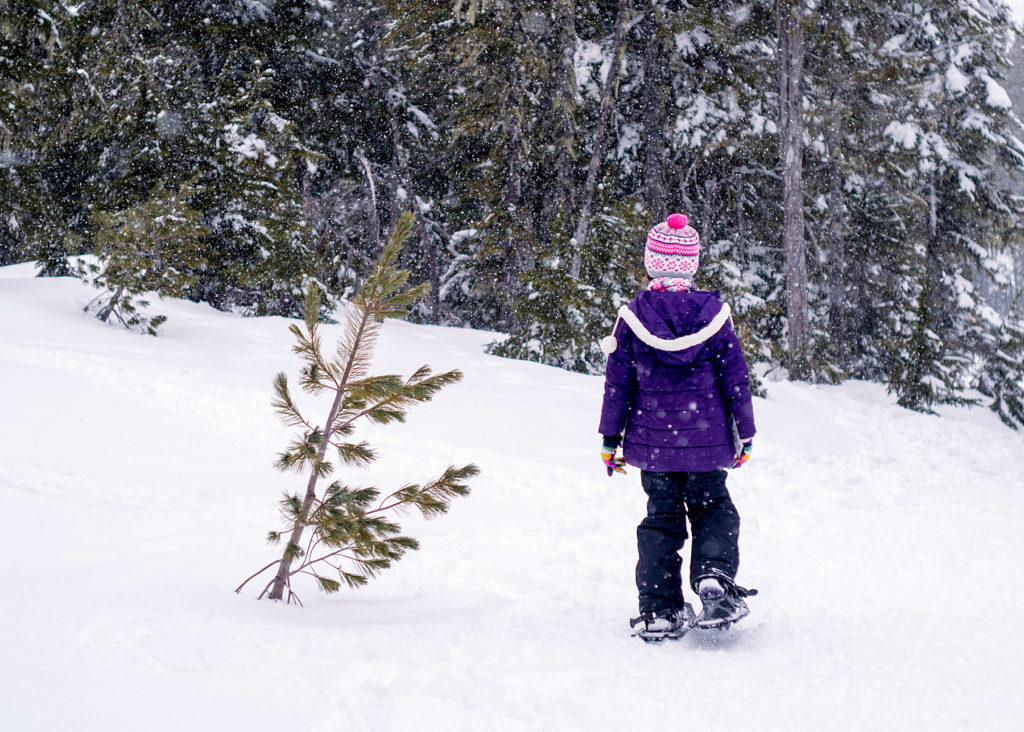 We'd been out for nearly 3 hours by the time we made it back to the lodge. I realized that I should have considered that the 1 hour estimate for the trail was based on adults intent on getting exercise, not children and photographers intent on feeding birds and setting up tripods for portraits. Next time I'll plan to be out longer so as not to worry my husband or feel rushed to get back.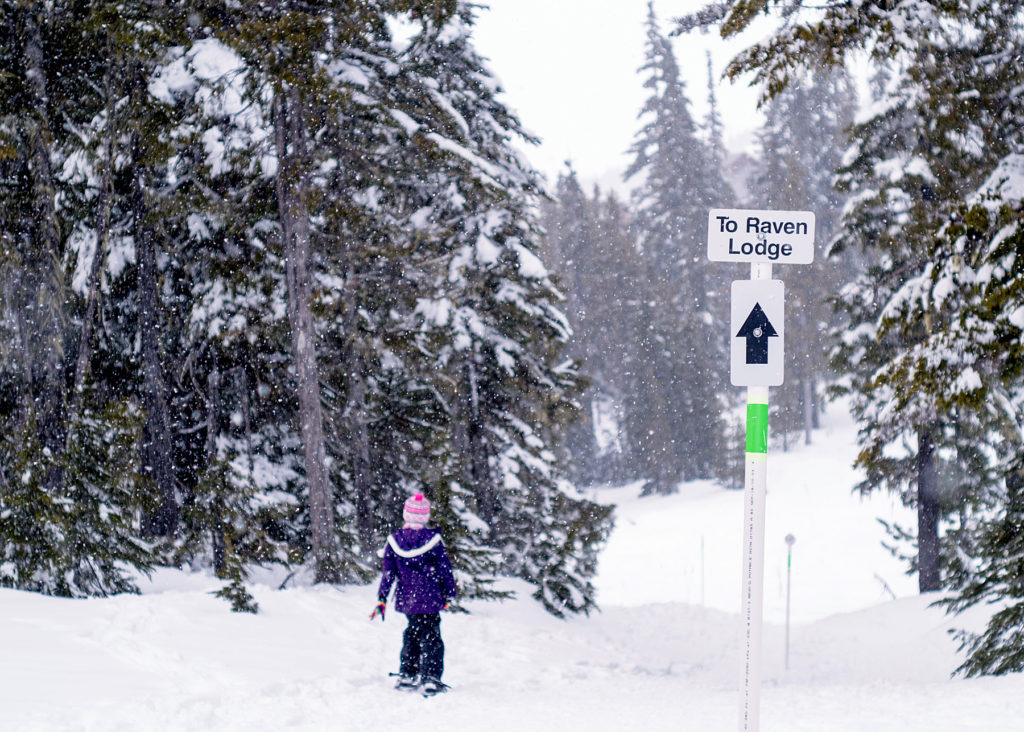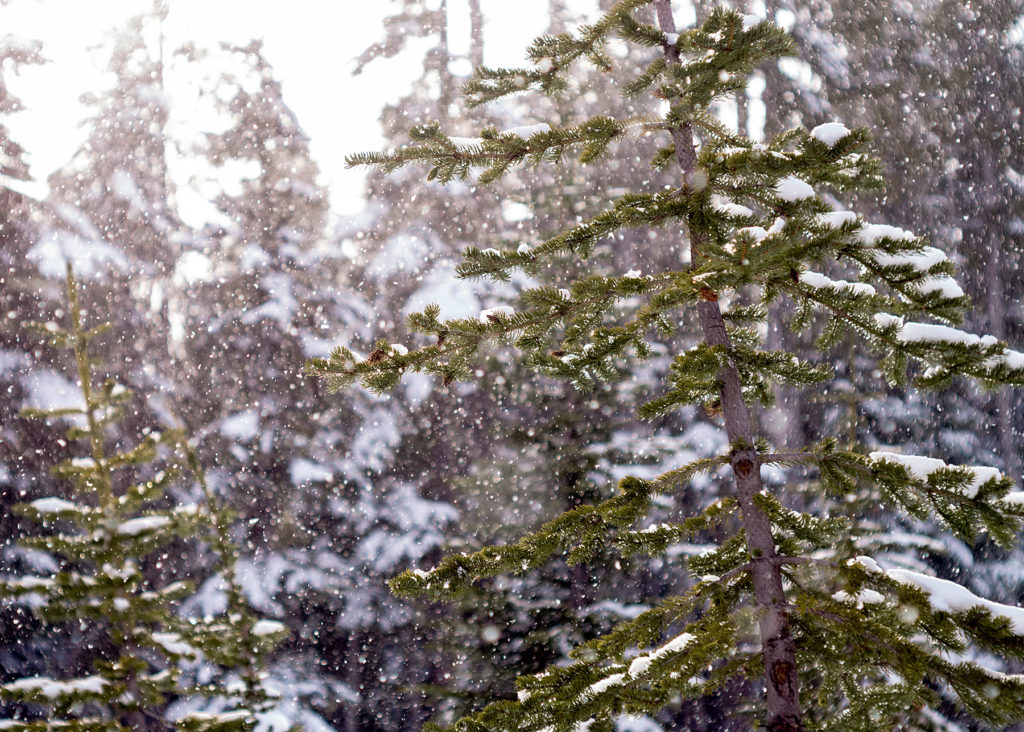 The snowshoeing itself was fairly effortless — I didn't feel more tired than if I'd walked a couple of hours. Gracie was tired but did remarkably well. I wouldn't have been able to make it all the way around with both kids this year unless I brought the sled to pull the 5-year-old when he got tired. I'd feel confident bringing Thomas next year when he has longer legs and more endurance.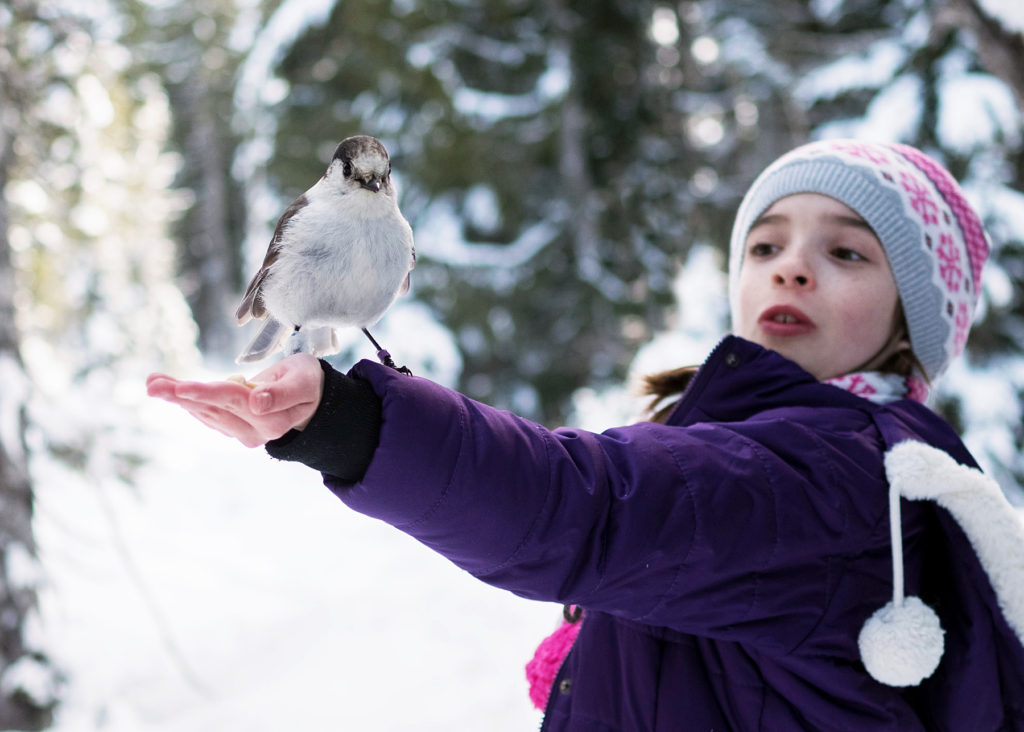 I'm glad that we stepped out of our comfort zone to try something new. Snowshoeing together was a magical experience I know Gracie will remember forever.