The Magic of Character Shoots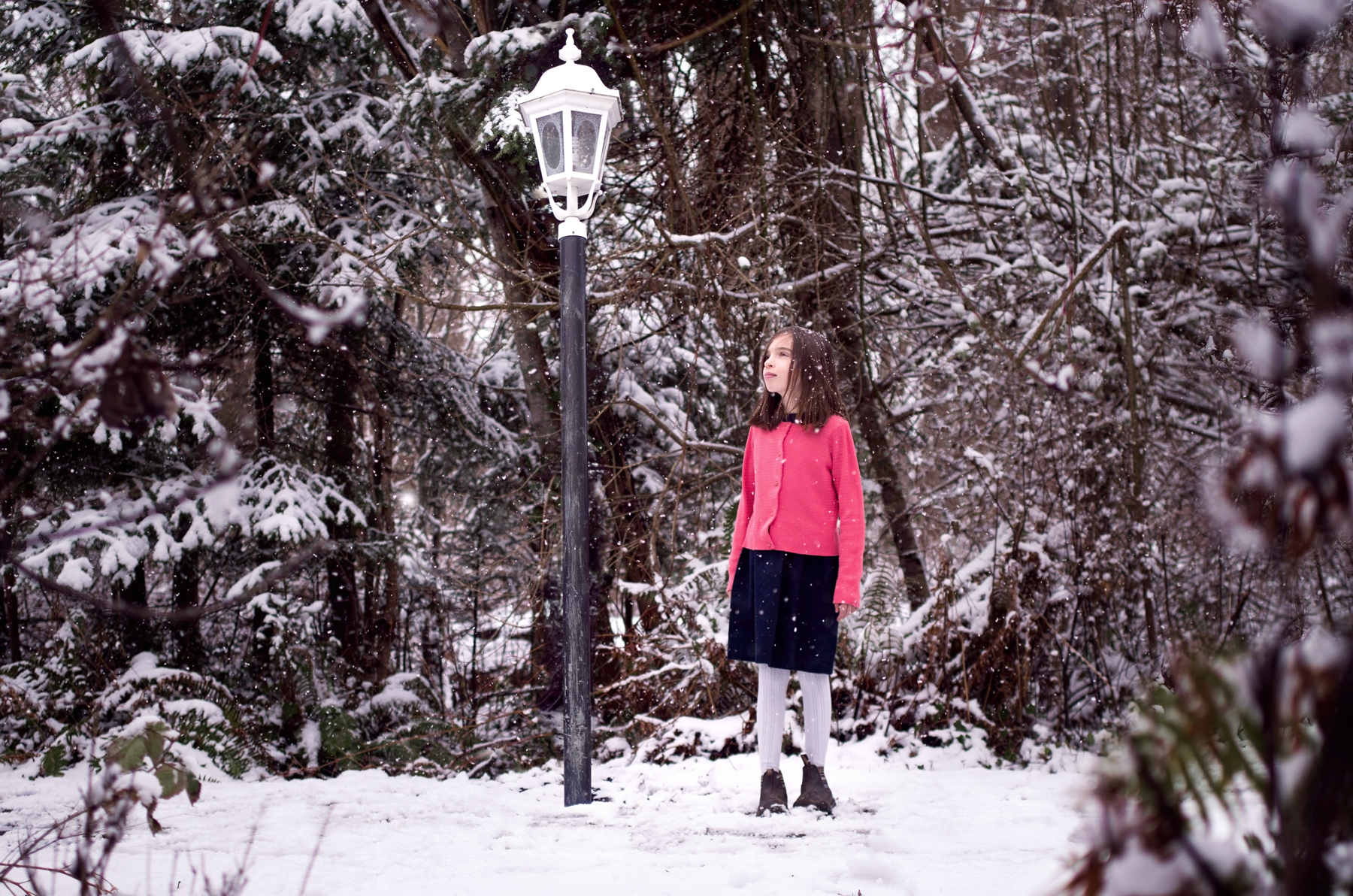 I ask my kids to participate in a lot of photo shoots. Usually it's as simple as wearing a particular item of clothing to a specific location (I love styled shoots). Generally they don't have to do much actual modeling, they just need to be themselves and I do the rest. Usually I have a vision and I persuade them to come along while I create. Once in a rare while, they are the ones that come up with an idea for a shoot. Those shoots are usually the ones where they get to dress up as their favourite characters.
Last year we went all out for favourite book character day at school. Gracie wanted to be Harriet the Spy and demanded we get all the details just right — down to the vintage styled notebook. It was a lot of fun and she made an excellent Harriet.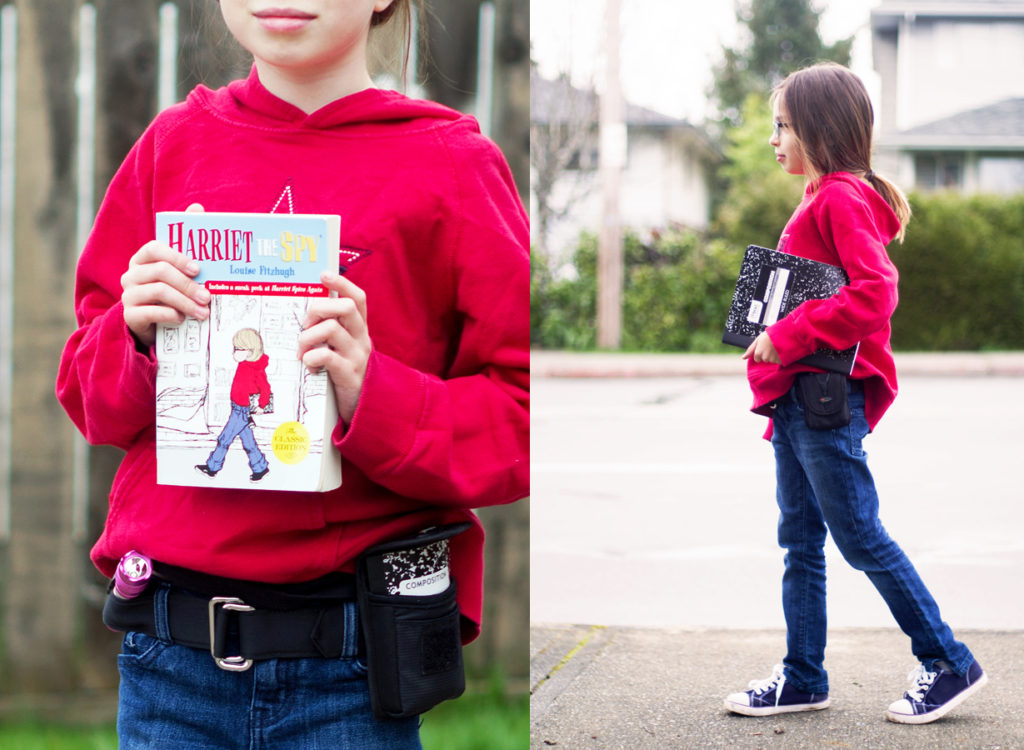 In May we decided to celebrate May 4th ("May the fourth be with you") with a simple Star Wars series photo op. We went super minimal for this one but it was a lot of fun. We're already working on ideas for another Star Wars themed shoot this spring. Thomas wants it to look "more scary."

For Halloween Gracie was Hermione Granger and she requested a photo of her in costume but with "magic coming out of the wand." I'm not very practiced at creating artificial effects in photoshop, but I was sure I could make it happen. We decided to take it up a notch and shoot at a real castle. Luckily we have a couple of castles here in Victoria to choose from. We chose a cold overcast day and took the bus to Craigdarroch Castle, dressed up, and ran around the grounds. The kids had a lot of fun aiming spells at each other and pretending they were really at Hogwarts. Editing the photos was a creative challenge. They turned out pretty great, although I have some ideas of how to improve them for round two.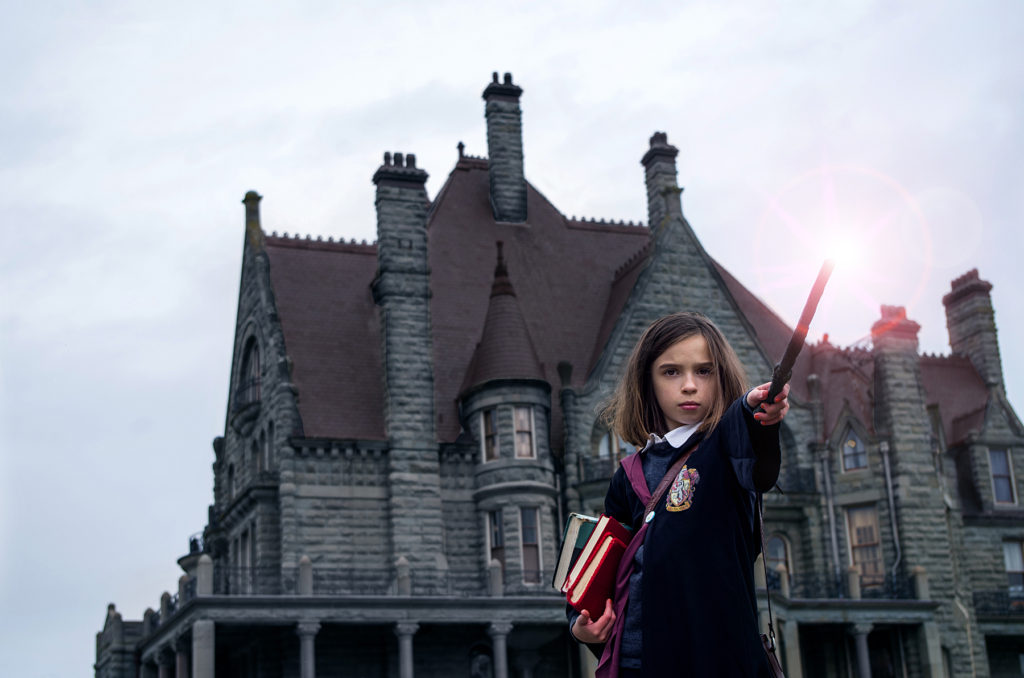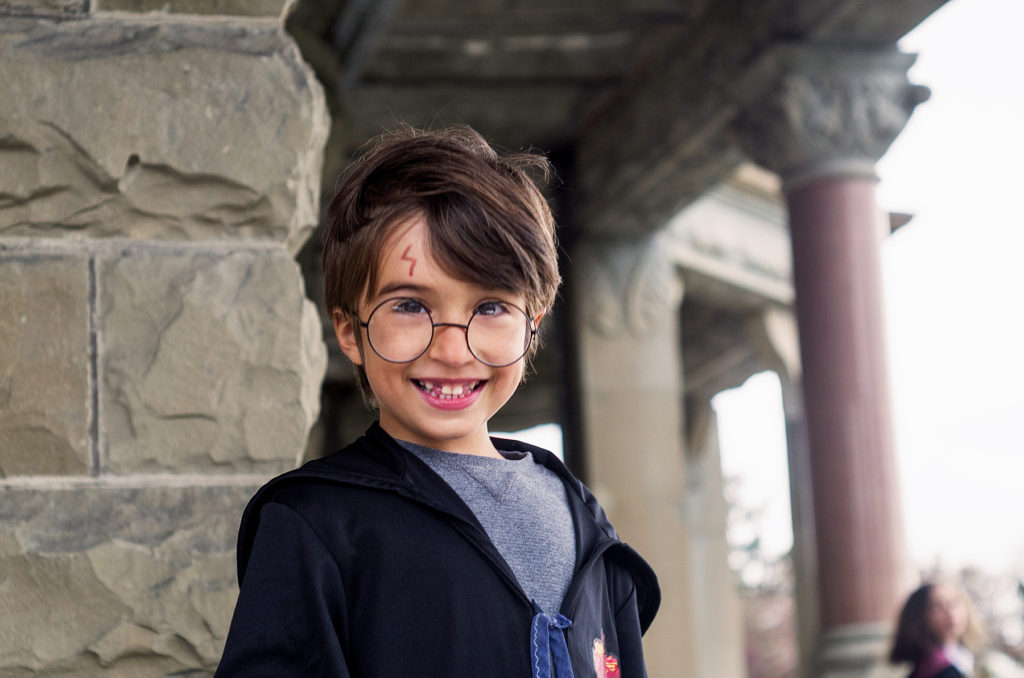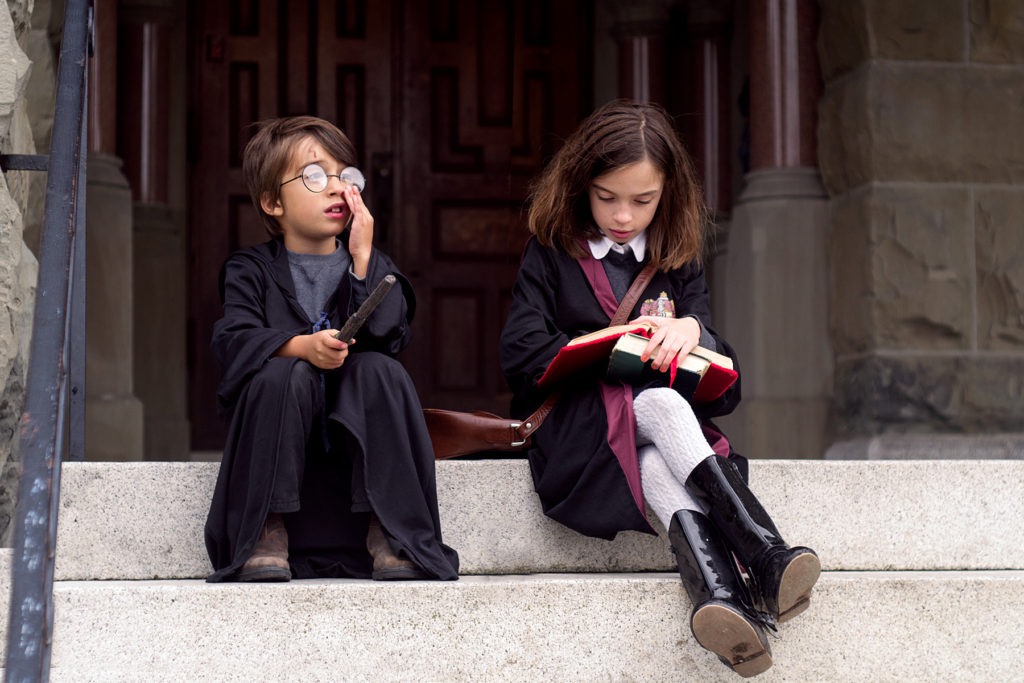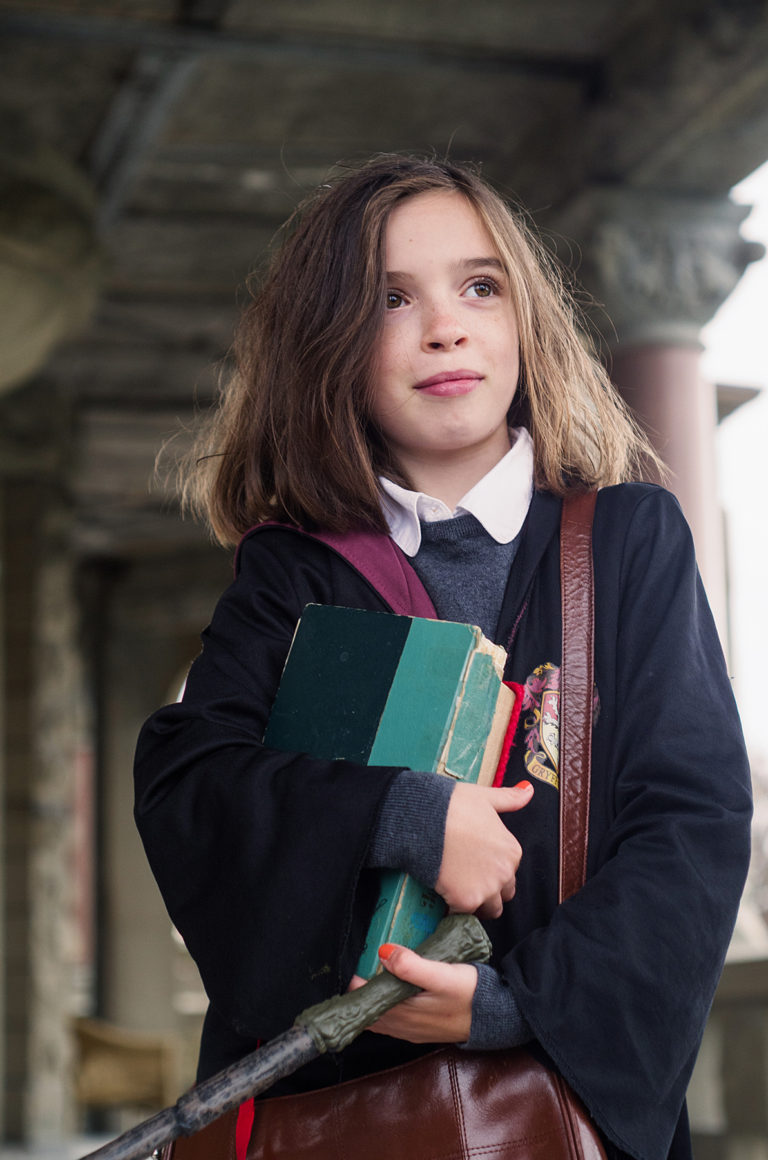 This castle, being a tourist destination for Muggles rather than a school of witchcraft and wizardry, has a lot of cars parked around it. But with a little photoshop magic I was able to remove them. I tried to recreate the dark, grey tones of the movie series for these shots as well. And of course, the magic is coming out of the wands. I thought a lens flare effect is how it would most likely appear on camera if a little witch or wizard were casting "Expelliarmus" at me.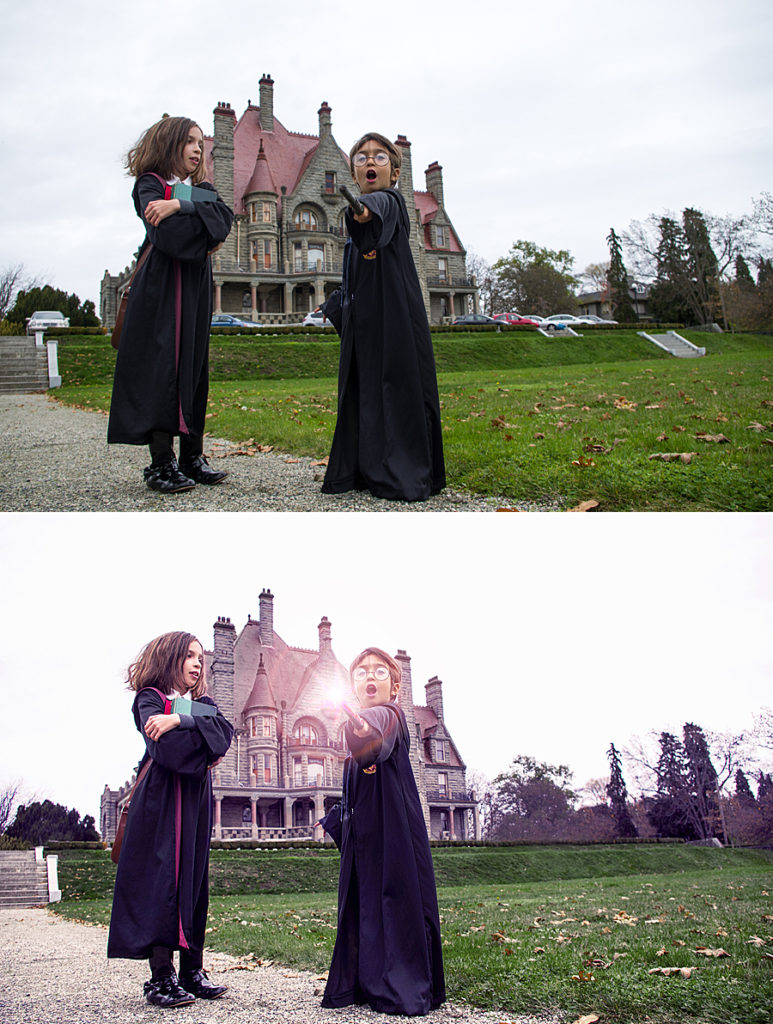 It was a lot of fun pretending we were at Hogwarts. I'm hoping to do this theme again, maybe even hosting a Hogwarts Halloween Mini-session party. I need to buy more wands and get busy knitting some Gryffindor scarves.
Our first idea for a character shoot was three years ago after we read The Lion the Witch and the Wardrobe together. Gracie and I decided we should find a lamp post in the forest and pretend we were in Narnia. For the last few years I've been looking for lamp posts in forests and hoping for snow. Finally this winter it snowed and it all came together just perfectly – almost like magic!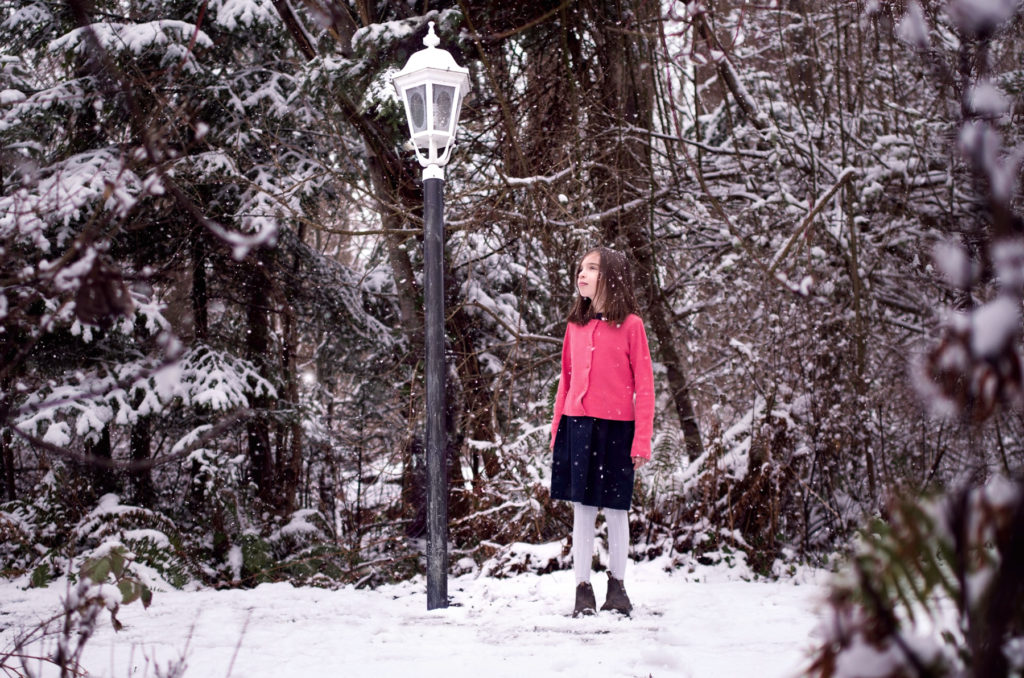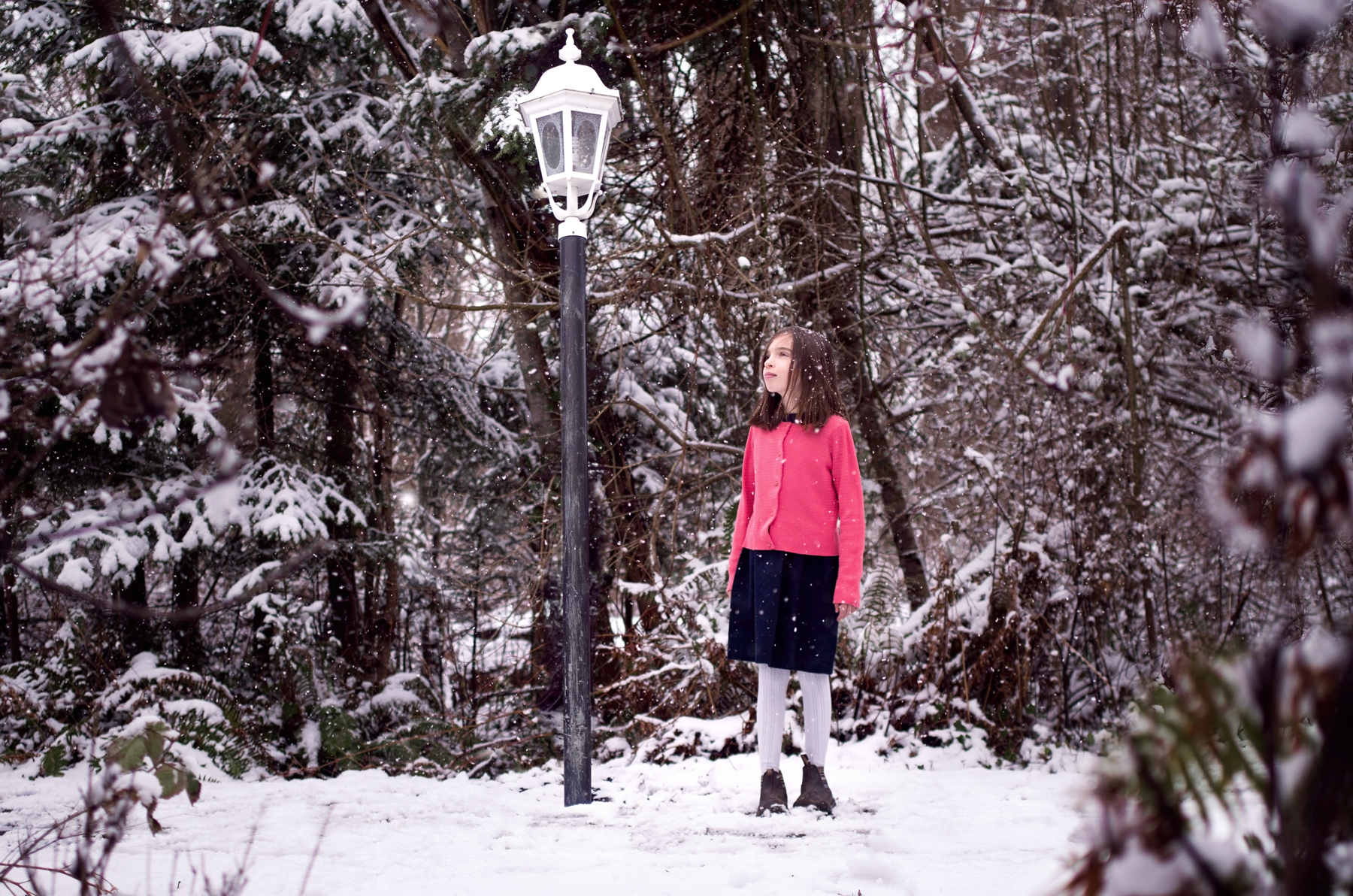 Gracie was an excellent sport playing Lucy in Narnia. Since it was actually snowing, it was pretty cold out. But Lucy wandered into Narnia on a rainy summer day, so I couldn't have her wearing a warm coat and mittens. Gracie layered up with merino wool under her tights, dress and sweater (this is one of my very best tips for outdoor photo shoots in winter!) and we did the whole shoot in under 10 minutes. The challenging part was that it was snowing quite hard and a lot of my shots were obscured by big white blobs in front of my lens. But in the end we got just a few good shots to piece together.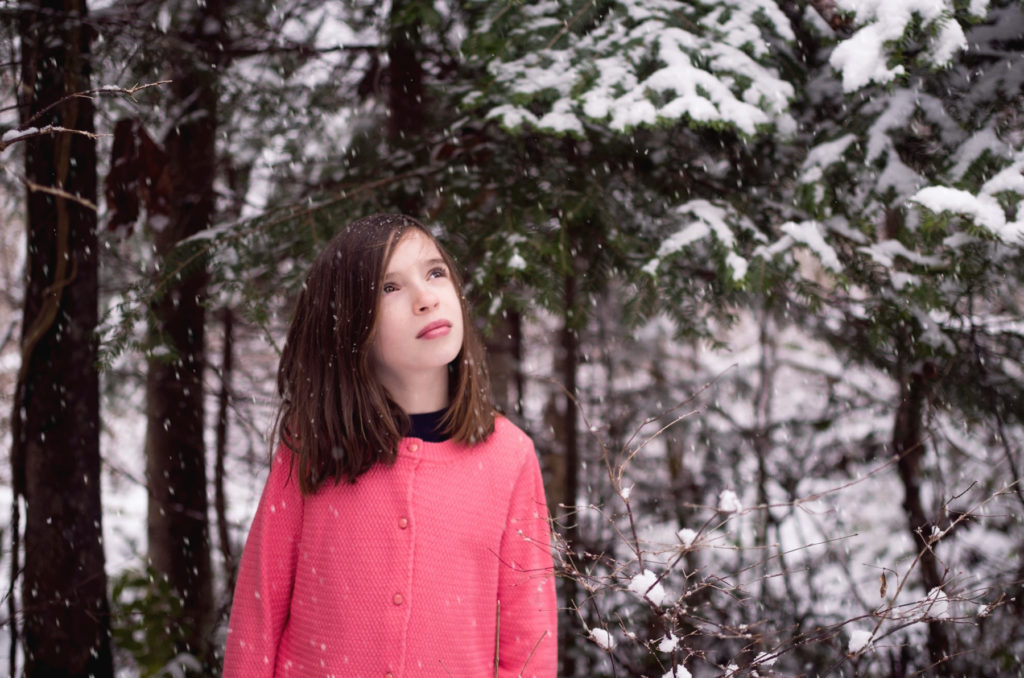 Despite my years long search, I never found a lamp post in a forest anywhere reasonably local (I'm sure there is probably such a place somewhere in Oak Bay.) I also hadn't considered that snow is pretty hard to get around in. I don't drive (not that most people in Victoria drive in the snow anyway) so it had to be in easy walking or biking distance. Even biking was a bit of a challenge in the snow, but we managed to make it to the forest by Uvic. The lamppost was a lucky find only a few blocks away, so I was able to shoot it in the same light to make a composite much easier and more convincing.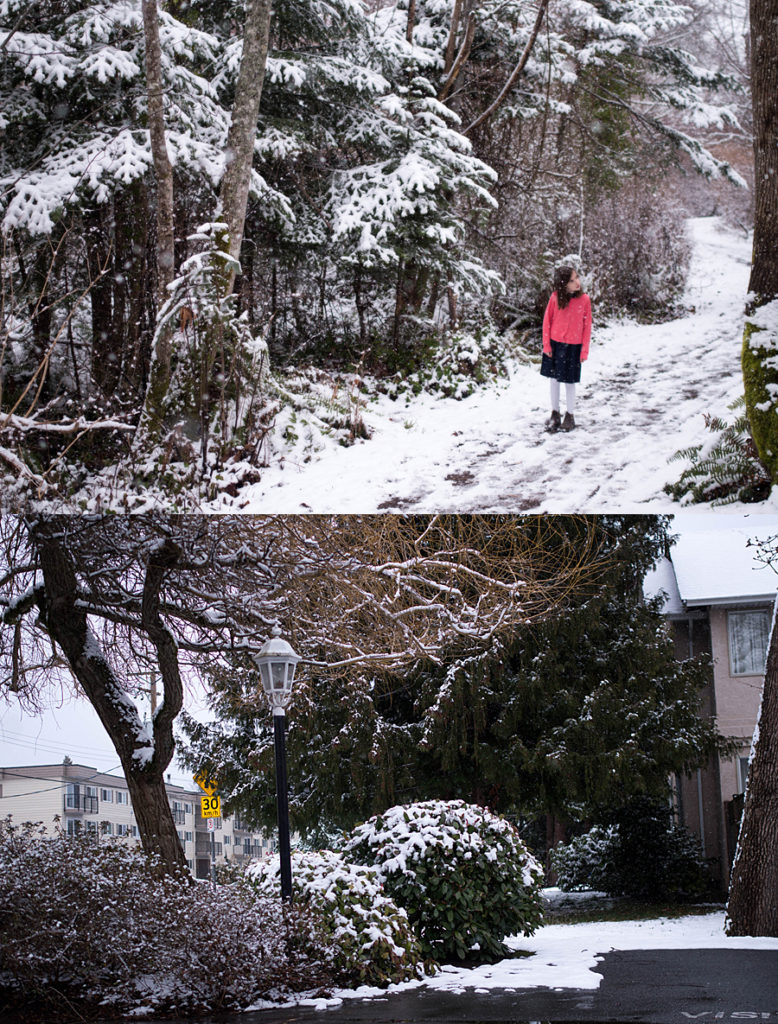 We've been waiting a very long time to find our way into Narnia, but it hasn't happened yet. So I used Photoshop to make the magic happen instead. An ordinary wooded area, a lamppost from an apartment complex, plus a little snow and we made a pretty convincing Narnia.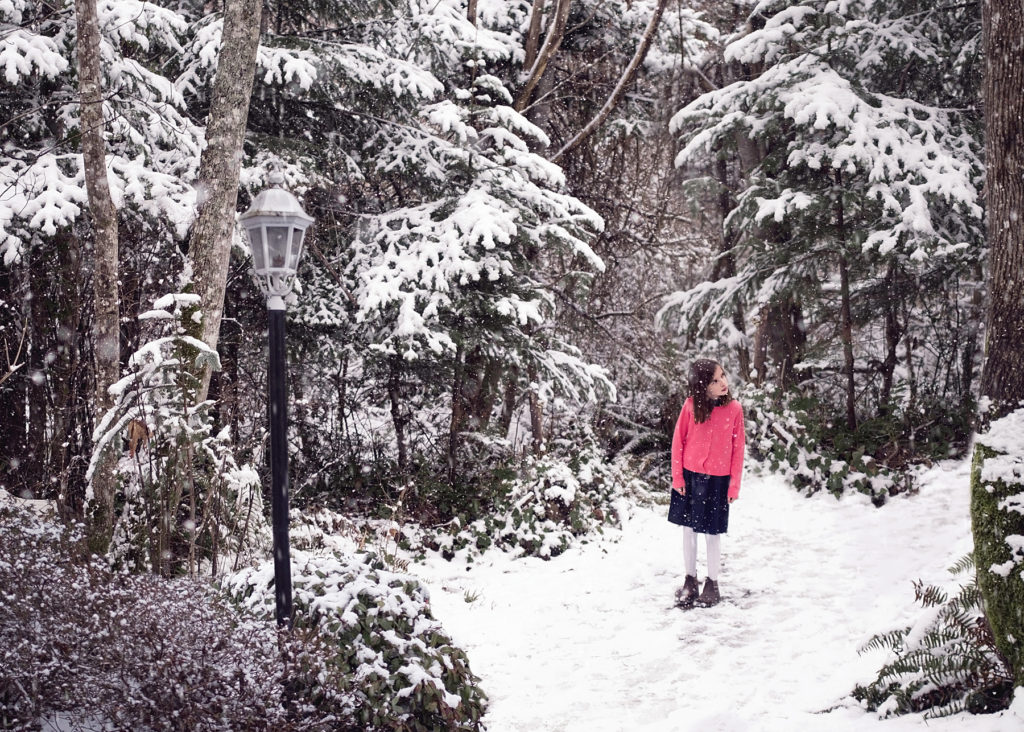 I love doing these shoots. They are challenging and rewarding. The best part is spending time with my kids creating something together. It's so nice to have them enthusiastically involved in the process. Gracie and I read a lot of books together and we're inspired by the characters and scenes in those stories. She loves getting the chance to be her favourite characters, and I love creating magical photos. We have a few more character shoots in the works for this year – I can't wait to share the results!